If you are battling disordered eating: anorexia, bulimia, orthorexia, exercise bulimia, binge-eating disorder or you just STRUGGLE with food and you don't know what to call it, I want to encourage you to GET help! Consulting a Christian non-diet dietician or a professional counselor, or both will be life changing. Make your freedom a priority!

I benefited from several years of Christian counseling. There is no shame in needing help. Sometimes we can read all the right answers, but still need guidance from a professional who can ask us the right questions and show us the best, Biblical answers.
I wrote about my own struggle of having an undiagnosed eating disorder here. Or, you can learn about my story in this video interview I did for the Lasting Freedom webinar program through a ministry called "Finding Balance." To hear my history of dieting and exercise struggles, watch it here: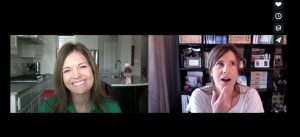 Some of our contributors have also written about battling eating disorders. Read their stories here.
"Longing to be Small: An Interview with Jena Morrow, author of 'Hollow'"
"Batting Bulimia and Receiving New Grace"
"Allison's Story: Hope for Exercise Bulimia"
"Whitney's Story: Overcoming Body Dysmorphic Disorder"
If you are struggling with any time of eating disorder (diagnosed or undiagnosed!) check out some of the resources below for help:
Find a Counselor:
**Note: the BEST counselor is one that you've been referred to by someone you trust. Ask your pastor, women's group leader, or friends for counseling recommendations too.
Christian Eating Disorders Collaborative Network
The Christian Counselor's Directory
The Biblical Counseling Network
Certified Biblical Counselors through IABC
Christian Treatment Centers (Residential):
Find a Christian Non-Diet Dietician:
Each professional listed sees local clients in person. Most offer some coaching or other specialized eating disorder help locally. If licensing laws allow, many also see clients from all over the world, virtually.
Dr. Kari Anderson – Listen to Kari on the podcast here talk about binge eating and the brain.
Char-Lee Cassel, MS, RDN, ACSM-CEP – Listen to Char-Lee coach Heather in monthly Intuitive Eating Coaching calls like this one.
Tracy Brown, RD – Listen to Tracy on the Compared to Who? Podcast here and here.
Amy Carlson, RD, MS – Peace with Food App – Listen to Amy on the Compared to Who? Podcast here and here.
Nicole Mesita, RD (licensed in California)- Body BLoved – Listen to Nicole on the Compared to Who? Podcast here.
Brooke Fredrickson, RD – Grace and Food Podcast – Listen to Brooke on the Compared to Who? show here.
Brittany Braswell, RD – Listen to Brittany on the Compared to Who? show here.
Megan Hadley, RD, CDN- Listen to Megan on the Compared to Who? show here.
Other/Self Study/Programs I recommend:
"Hope for the Hollow" by Jena Morrow. (This link is to the 30 Day Workbook. There is a regular book as well. Find it here.) Or, listen to Jena's podcast called "Hope for the Hollow" right here.
Finding Balance Ministries, Lasting Freedom Online program. 
Intuitive Eating for Christian Women
"Life Inside the Thin Cage" by Constance Rhodes.
"Beautiful Lies" by Jennifer Strickland. 
For Moms of Daughters Struggling with Eating Disorders or Body Image:
"Mom I Feel Fat" by Sharon Hersh.
"More Beautiful Than You Know" by Jennifer Strickland.
**This post contains affiliate links. Purchasing these resources through provided links will also benefit the ministry of Compared to Who?