In today's Black Friday episode of the show, Heather talks about the connection between body image issues and shopping! If you've ever found yourself trying to soothe your body image frustration through buying clothes or buying things . . .you're not alone. Today's show offers practical tips for getting our shopping habits under control. There's nothing wrong with enjoying shopping, but if we believe we can buy our way out of our body image issues-it won't work as we hope it. Also, today Heather shares some of her favorite things that–if you are shopping–you may want to add to your Christmas list.
Heather's Favorite Things List
**Links are Amazon affiliate links – a tiny portion of your purchase support Compared to Who?**
Fun products for you!
Amazon cool neck ring for getting ready, hot flashes, and summer: https://amzn.to/3O8mxsd
Heather's favorite top! Check out this Dolman short sleeve top that covers and flatters: https://amzn.to/3Obi3B2
Heather's favorite nightgown: https://www.amazon.com/gp/product/B07JC28Z84?ie=UTF8&psc=1&linkCode=sl1&tag=comparedtowho-20&linkId=e193a63d6afc6a3b55594f316b5625dc&language=en_US&ref_=as_li_ss_tl
Fascia Blaster tool Heather loves: https://amzn.to/3X8yty7 and the moisturizing oil that goes with it: https://amzn.to/3Al9o9u
Heather's favorite kitchen gadget, this cool little strawberry huller: https://amzn.to/3TKoFHE
Heather's favorite supplement for cold and flu season: https://amzn.to/3UJGbwY
Heather's favorite beauty gadget, this little trimmer for brows, nose, and chin: https://amzn.to/3UGQAd3
Heather's favorite affordable, cool, and soft sheet set: https://amzn.to/3AkjVl4
Heather's favorite smart watch band: https://amzn.to/3tC5SUg
Try the Shopping Services Heather Mentioned
Try StitchFix and get a $25 credit: https://www.stitchfix.com/invite/cvnxqt85hk?sod=w&som=c
Try Wantable and get a $25 credit: https://www.wantable.com?invite_token=6uBZohI3o9o
Heather's favorite books this year
Great Reads in New Year:
What God Says About Our Bodies. Find it here: https://amzn.to/3OfdYMm
Anti-Diet by Christy Harrison: https://amzn.to/3EbPw9N
Great Book for Your Stocking: The Intuitive Eating Workbook. Find it here: https://amzn.to/3X112O5
or
The Food & Feelings Workbook: https://amzn.to/3hKwCiP
Great Gift Book: The Chosen: 40 Day with Jesus Book One: https://amzn.to/3UYX7zp
Great book for teen girls: Who Are You Following: https://amzn.to/3EDn5TV
Great book for the curious woman who enjoys personality type study: https://amzn.to/3EBFksA
Great book for introverts: https://amzn.to/3GkZXdS
Great book for single moms of boys: https://amzn.to/3EbPw9N
Heather's book on comparison makes a great gift: https://amzn.to/3tD3VqR
Heather's book on body image makes a great gift or stocking stuffer for yourself: https://amzn.to/3tAFxpO
Bless the Compared to Who? show this season:
Become a Patreon sponsor of Compared to Who? here: https://www.patreon.com/comparedtowho
Buy me a coffee: https://www.buymeacoffee.com/comparedtowho
One of the best ways you can than Heather for another year of episodes is to leave a voice mail message to be played on the air. Share your first name and how the show has blessed you at this link: https://www.speakpipe.com/comparedtowho
Ready to learn more about Compared to Who? Sign up for the free 5 Day Email Challenge here: https://comparedtowho.me/5-day-email-challenge/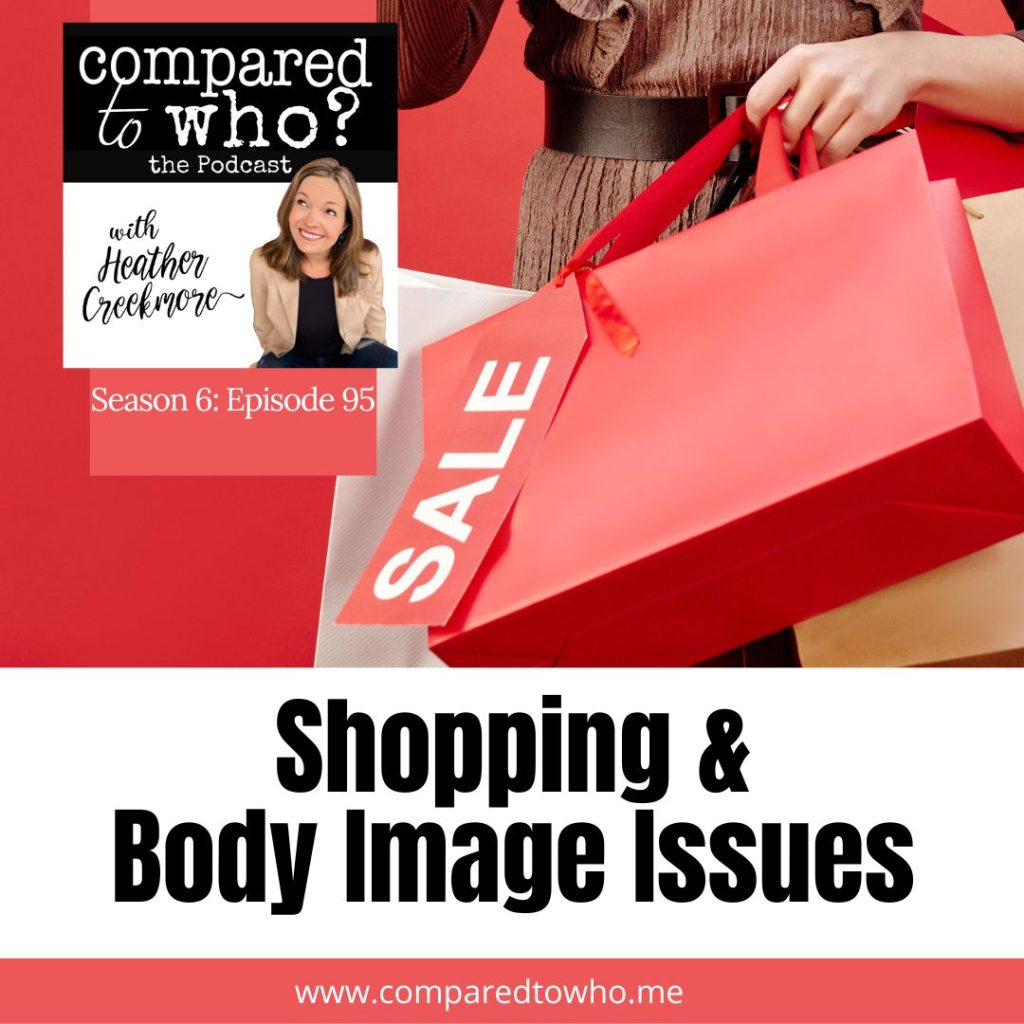 Today's show also features an ad from this month's sponsor: Tighten Your Tinkler. 
Heather tells you about her experience with this fantastic program to help you strengthen your pelvic floor and why that's important. If you haven't listened to the full interview with Jenn from Tighten Your Tinkler, listen here. To learn more about the program, visit: https://www.tightenyourtinkler.com/signatureprogram and use the coupon code: HEATHER to save $50!