Updated 8/19: Have you noticed a common theme in some of the most popular songs on Christian radio right now? I sure have. There seems to be a trend of songs to encourage women (and men) about their true value and worth! 
Here's my list of the best songs to beat insecurity! Share it with your friends and your daughter, too. It's a playlist all women need to have handy to fight bouts of depression or insecurity. I've shared a little about each song and a link to its You Tube video below. Then, at the bottom, I've put the whole playlist for you to use the links to iTunes if you want to grab the songs for yourself!
"Your love is My identity . . ."
This band is one of my absolute favorites. They poetically call out the idolatry in our hearts and call us to keep our minds on Jesus not the things of this world. One of my favorite songs ever is, "Control."
Lauren Daigle has a number of great songs for reminding you of your worth in and through Jesus. Check out her albums on link above.
"Mirror, mirror, mirror on the wall. Telling those lies. Telling those lies. This isn't who you are."
What's not to love about a song that starts like that?
Listen and watch the whole thing here:
Did you know this will be the theme song for a brand new movie called Priceless? It looks intriguing, I'm not sure what it's rated but its the story of a man who falls in love with a woman whose been a victim of human trafficking.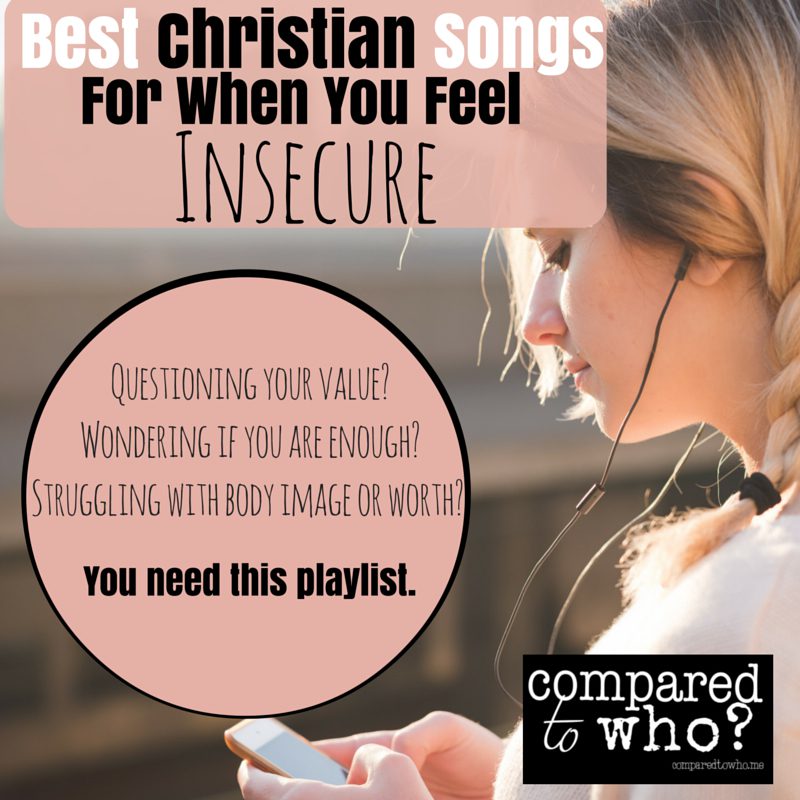 There's one line in this song that always strikes me. "Weren't not meant to be superheroes, photo-shopped, all size zeros."
Can I get an amen on that? (If you are a size zero, that's totally great. I just mean that we shouldn't all have to fight you over the extra-smalls.) Watch the video "You are Loved" here:
This song is just fun. Speaks to how the pressure and stress we are under can create something beautiful. It's really catchy too. My children walk around the house singing.
Total teeny-bopper beat from 1GN (1 Girl Nation), but you just may find yourself getting emotional. (Okay, maybe that's just me.) "Guard your heart" is the one message I wish I had heard and internalized more as a teen and twenty-something. Listen to it here:
We saw this band when we went to the Bible tour and I was totally surprised. I didn't know much of their music, but this song convinced me that they could be my daughter's new favorite band! Put this on loud at the chorus and have a little dance party with your daughter (or by yourself)!
"You lift me up when I am weak. Your arms wrap around me. Your love catches me, so I'm letting go."
Who doesn't need a reminder of this, daily?
Watch the video here:
"In this obsession with the things this world says make us happy . . .Can't see the slaves we are in all the searching and the grasping."
When you are really wrestling with your body image you need a reminder of the truth. Beauty won't make you happy. A smaller dress size won't fix it. Everything that this world tells us we "must have" in order to feel fulfilled, loved, and content — they are just false idols. There's only one thing we really need. It's Christ in us that satisfies.
"Done with what holds me down, the things I once was chasing after. Throw off these heavy chains that I have let become my master. Oh, so now I'm running free into an ocean of mercy, unending."
Sounds nice, eh? This is my prayer. Daily.
My husband and I went to a Jeremy Camp concert the day we got engaged. So, his music will always have a special place in my heart, but this song. Oh. It's just so perfect for our struggle. Turn it up LOUD and sing out the chorus. It'll feel good. I promise.
Watch the video here:
There's nothing more comforting when you feel insecure and uncertain than to know that God really is still in control. He's got it. That's what this song reminds us of. It's so beautiful and you may cry. It'll be therapeutic though. Trust me. Watch it here: