People of all ages struggle with doubt and insecurity, and do you know a great way to combat these negative feelings? Music! You may remember a post from a few years back called "Best Songs to Beat Insecurity." Well, here is "Best Songs to Beat Insecurity 2," an updated list of my top 10 tracks to help remind you of your true value in Christ. Check out the music video for each one, and my favorite encouraging lyrics! 
"Not enough
Is what I've been told
But it must be a lie
'Cause the Spirit inside says I'm so much more"
We've all thought, at one point or another, that we were not enough. This song is a great reminder that that is a lie. We are so much more!
"In the waiting, in the searching
In the healing and the hurting
Like a blessing buried in the broken pieces
Every minute, every moment
Where I've been and where I'm going
Even when I didn't know it or couldn't see it
There was Jesus"
Jesus never leaves us, no matter what we do or how we look. Even in the midst of our insecurity, He is there and He loves us. Friends, I don't know about you, but I find comfort in knowing that nothing we do will drive Jesus away. 
"Am I more than just the sum of every high and every low
Remind me once again just who I am because I need to know"
This song is a firm reminder that our identity lies in Jesus alone. We are not our mistakes and failures, or our greatest achievements. When you forget your true worth and value, turn to this song. 
"You never wanted perfect, You just wanted my heart"
"What looks to me like weakness is a canvas for Your strength"
These two lines are so powerful. When you're feeling insecure, remember that Jesus does not want perfection, but rather He uses our weakness to show His strength. It's not up to us to look a certain way — Jesus just wants our heart. 
"Moses had stage fright
When David brought a rock to a sword fight
You picked twelve outsiders nobody would have chosen
And You changed the world"
I love these lyrics because they highlight the truth that Jesus uses the sinners and imperfect people of this world to further His kingdom. When your doubts and insecurities are running rampant, this song reminds you that Jesus already knows about all the skeletons in your closet, and yet He chose you anyway.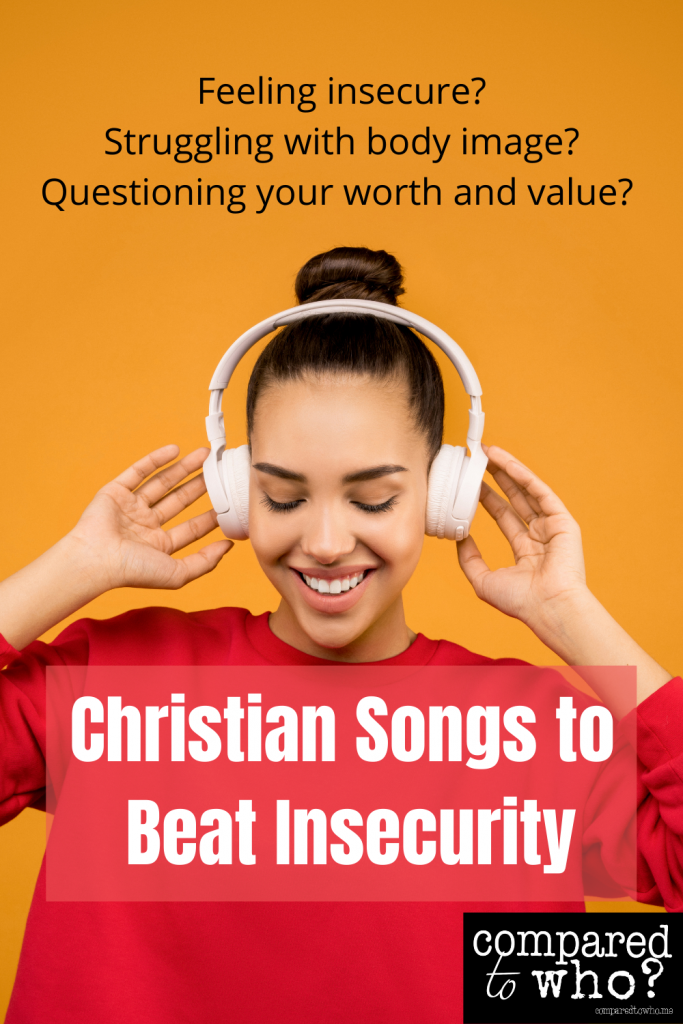 "Singing oh Lord, show me what matters
Throw away what I'm chasing after"
This song is a great reminder to focus on what truly matters and to stop chasing after a "better" body or a "better" life. Staying in the moment means focusing your eyes upwards, not towards yourself. 
"I always thought I had to earn my way
But I'm learning You don't work that way, no
'Cause somehow You don't see me like I do
Somehow You're still here"
God doesn't look at us and see our frizzy hair or the number on the scale. We don't have to earn our way to Him or prove our worth. When you're feeling insecure, let this song ease your mind and know that the most important thing is not something you can see in a mirror. 
"My failures and flaws
Lord, You've seen 'em all
And You still call me friend"
Once again, this song beautifully shows how God is not deterred by our failures and flaws. When you're feeling insecure, this song will help you remember that God is with you. 
"I've blamed myself
And if I'm honest, maybe I've blamed You too
But You would not forsake me
'Cause only good things come from You"
Even at your lowest point, God will not forsake you. That is something to celebrate, friends! 
"Somehow you really love who I really am
I push you away, still you won't let go
You grow your roses on my barren soul"
I love the imagery of that last line. Even when we push Jesus away, even when we are struggling with our identity and worth, Jesus does not let us go. 
I hope you find encouragement in these songs and they help you beat insecurity!