It's a tough time of year for body image. Everywhere we turn, the perfect body is heralded as the ultimate happiness. I flipped on the TV the other day only to find a diet specialist who outlined Hollywood "nutrition" and the way it could help us get thinner in the New Year. The next channel over had a similar segment from a slightly different angle. The next featured (I kid you not) their hosts chatting about which celebrities they would morph together to create the best body. Do I even need to mention the magazine covers in the Target check-out aisle? I didn't think so!
Images of rock hard abs and diet foods surround us, especially this time of year.
Wouldn't it be nice to embrace a different kind of resolution this New Year? One that has nothing to do with body shame, and everything to do with self- acceptance and grace for the person God has created and the body in which you live?
I'd love to share some thoughts that have helped me in this process (because, believe me, I get it. I'm a chronic-dieter and body-worrier from way back!). This isn't an exhaustive list, but it can hopefully help on this journey (which is radically different from anything you'll find on TV this month).
Step Away from the Advertisements
Let's start out super-practical, shall we? Diet commercials and gorgeous supermodels don't do us much good. So, try to not let images that tear you down take up much space in your head. Remind yourself what they are trying to sell, and flip the channel. Choose a different kind of magazine to read, and close out that Facebook ad. Yes, this is a constant battle (have I mentioned it is everywhere?). But put that willpower from your last crash diet to use–only this time, it will be on something that cultivates grace and contentment!
Start a Conversation with Jesus (and Keep on Talking)
Take time each day to tell God about your struggles. Ask Him for perspective and help. Open His word (I started with a Psalm a day). It may take a little time, but as you keep asking and seeking, I promise you will hear from Him. And when you do, it so sweet; tailor-made for your specific questions and heartaches. Once you have experienced this, you will want to keep going back for more. Jesus truly satisfies.
Journal
If you are anything like me, you've kept numerous journals over the years to count calories and regulate food. How about making this year's journal a little more upward-focused? Chronicle the ways you hear from the Lord. Write out verses that came at just the right time, the days you struggle, or the encouragement of a friend. By the end of the year, you'll be able to look back and see progress, as well as recall some beautiful moments with your Savior.
Limit Mirror Time
You may never love everything about your physical appearance when you look in a mirror. But that's okay! God has more important things for us than to spend a ton of time in front of the mirror anyway. So, do your hair, put on your make-up (if you like to wear it), then move on towards the greater purpose God has for you that day.
Strive for Balance
Developing a healthy body image doesn't mean we ignore nutrition. Not at all. But because exercise and food can so quickly turn into an unhealthy obsession, balance is essential. God designed our bodies to desire many kinds of different foods, and with the ability to be active. So really enjoy these gifts! But keep a mindful heart, so that they don't become an idol.
Focus on Your Body's Function
Even with the healthiest image, you will still have body parts that aren't your favorite. When you find yourself critical of them, be reminded of the role they play in your life. Thoughts like, "Lord, thank you that my legs can take me wherever I want to go today!" Or, "Thanks for these arms that allow me to pick up my daughter and hug to the ones I love." Whisper the truth and keep your body focus in perspective.
Ask Compared to Who?
Tempted to look around rate how you measure up? Me too! Our beauty and gifts are each so unique, there is truly nothing to compare. Asking "Compared to who?" really does help! And finding others actively on a similar journey helps even more. There is a reason this website has the name it does! So join us, we are in this together! Buy a shirt to remind yourself to stop comparing! Read some of the articles on this site, follow along on social media, or subscribe below!
Because when it comes to shutting down comparison and cultivating a healthy body image–especially in the New Year–we need all the help we can get!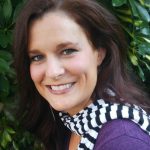 ---
Kristen Maddux lives in St. Petersburg, FL and takes any chance she gets to go to Disney World. She loves creativity of all kinds, and words–whether that's diving into a good book, watching old movies, writing out her thoughts, being involved in theater (or just meeting up with friends and talking a lot!). Married to her college sweetheart, they have a nine-year old daughter and a goldendoodle puppy. She loves decorating their home, and is passionate about becoming the kind of wife and mother who lives in balance with food and acceptance of her body. She hopes to encourage others on that journey as well.
[mc4wp_form id="4141″]