What does a healthy body image even look like? I honestly didn't know the answer to that question.
I was determined to find out, though. Now I had a daughter. Through her, I saw my own body image struggles in a whole new light. While I knew I would never be able to control all the outside forces and temptations she would face, I knew there was one thing I could control. I could change. I could become a mother who lived out a healthy body image in front of her.
But what did that even look like? Where should I even start? 
Here are 5 questions that helped me navigate these issues with greater clarity. I pray they encourage you as well.
Ask yourself these 5 questions:
1. Do I understand where a healthy body image is found?
I had to reject what all the magazines and TV morning shows said. Because contrary to popular belief, a good body image is not found in achieving the best body ever. A good body image is actually discovered when we focus less on ourselves. When we are busy enjoying our life and hobbies and the specific purpose our body helps us live. So, while your daughter may never hear you say, "Yes! My tummy is gorgeous!" she can hear you say things like, "This shirt flatters me well. Now, I'm off to do the things God has for me today. I'm thankful for legs that can take me there, and arms that help me serve."
2. How is my relationship with food?
Whether we realize it or not, our daughters notice how we eat and talk about food. Diet culture would love to convince her that food exists to make her fat. That there are strict rules to abide. Just the other day I heard a mom tell her child that she shouldn't eat this, and she shouldn't eat that if she wanted to be "healthy." This is where we need to be careful. God created food as a gift to us, for our nourishment and our enjoyment. He desires for us to have freedom with it. As eating disorder specialist Jennifer Rollin says, "Teach that all food can fit into a healthy diet. What's truly unhealthy is having shame or anxiety around food." Now, do we also need to model self-control and include high-nutrient foods in the variety we eat? Sure. But being able to enjoy Grandma's Chocolate cake alongside our kids (completely guilt-free) is really important too.
3. What/Who do I admire?
Children take special note of the things in which their parent's speak favorably. Are you the kind of person who is quick to mention a person's attractiveness? Or how someone lost weight and "looks amazing now"? We do this without even realizing it. Then, our daughters file away that those are the things are important to us. How wonderful would it be if–at an early age—she started taking note of people with character, those who serve God humbly and think of others, all because you are quick to point them out too.
4. Do I have exercise in its proper place?
Being able to move our body is also such a gift. Yet, many of us either don't move at all, or we overdo it. I have an acquaintance who posts about her workouts on Instagram more than she posts about anything else. If we aren't careful, burning calories through exercise can become an obsessive mindset. I once heard a therapist say, "It's best to equate exercise with fun and play," and that made so much sense to me. Our kids have this idea down. They love to run, flip cartwheels, and hang on the monkey bars. All for the sheer joy of it. It would be good for them to see us choose our exercise likewise. Activities that get us moving, yes! But more importantly, ones that squash compulsive tendencies and add fun and enjoyment to our life.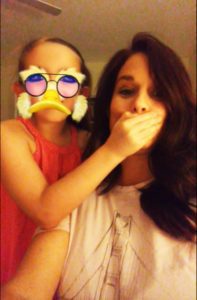 5. Am I grounded in the Word?
God chose you to be your daughter's built-in mentor and example. This is both miraculous and weighty. At times, it may feel overwhelming. But, God promises to show you the way. I have remarkable stories about how God met me in the Scriptures or provided a person to guide me through this very difficult struggle. No blog post or encouraging meme can do that. Only the living water of Scripture, and seeking Him for wisdom. When we do that, we can rest assured He will provide strength in our weakness, and guidance for the journey. Even if (and maybe especially if) there are little eyes watching as we try to live it all out.
---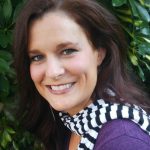 Kristen Maddux lives in St. Petersburg, FL and takes any chance she gets to go to Disney World. She loves creativity of all kinds, and words–whether that's diving into a good book, watching old movies, writing out her thoughts, being involved in theater (or just meeting up with friends and talking a lot!). Married to her college sweetheart, they have a nine-year old daughter and a goldendoodle puppy. She loves decorating their home, and is passionate about becoming the kind of wife and mother who lives in balance with food and acceptance of her body. She hopes to encourage others on that journey as well. Read Kristen's posts here.
[mc4wp_form id="4141″]
SaveSave