I hate to admit this. For the longest time, when it comes to food and body image I wasn't a great example to my daughter. Oh, I thought I was. I read all the articles about it. In my head, I knew that the way I viewed my own body wielded the greatest power over how she viewed hers. But when it came down to it, what I really believed was that staying "healthy" (read: "thin") was the best way to set that example.
For years, I spun my wheels on the diet cycle. Dieting was the only way I knew how to approach food and stay "fit" (read: "thin"). And, when my daughter came into the world, not much changed on that front.
I weighed myself every day, sometimes with her watching me and counted calories in a notepad. I often went to bed hungry and cooked mostly diet foods (meh). If I had dessert, I felt guilty about it and said so. I drank tons of water, and exercised just to burn fat. When I would finally reach my goal weight, I'd celebrate with pizza, steak, ice cream (my favorites!), and all the other foods I'd been denying myself. (I had missed them so much!)
Slowly, 10-20 pounds would creep back on. Then it was time to start another diet. . .
It's funny, though. Even with all the restricting and depriving I was doing, I never felt satisfied with how I looked. Dieting just made me more preoccupied with it.
Setting a Good Example Versus Being a Good Example
Still, whenever those articles crossed my newsfeed asking what kind of body image role model I set I would think, "I'm good!"
I never said the word "diet" in front of my daughter. I tell her all the time that inner beauty is the most important. When she looks at me, she sees a mom who prioritizes staying 'healthy' (read: you know!). Therefore: I'm a good example! (Or, so I thought!)
Ugh. How deceived I was.
When it comes to the way we eat and approach body image, our daughters notice what we do. Much, much more than what we say. That is the hard part. We have to actually live this out. Uh oh!
Things changed for me when my daughter was about 6 years old. Around that time, I had committed to pray daily for each of my family members. My daughter exuded happiness. She had many friends and did well in school. I wasn't sure how to pray for her. So, I asked the Lord to show me.
Can you guess how He answered that request? YEP. It didn't have much to do with her. It had to do with the real body image example I set for her.
I was shocked! I thought I was fine! But God is so cool and surprising like that.
Deep down, he saw the ways I distorted His gift of food. He knew the truth of how I connected self-worth to a jean size. He saw two people whom he could greatly affect through one Mama with a healed perspective.
So, he began to do some soul- level work on me.
Healing My Relationship With Food
It has been one of the toughest and most beautiful journeys of my life. Though it sounds cliche, my eyes have been opened. I was blind, but now I see! My relationship with food had become so unhealthy and I never even realized it. Being thin was my priority at the cost of true nutrition.
Dieting, exercise, what other people think of me. . . I've had to learn to let all of that go. Whew! These are biggies! Releasing control is HARD. Yet, it is abundantly rewarding.
Now, I truly enjoy all kinds of food for the first time since I can remember. I love cooking and inviting friends around my table.
I'm learning to eat when I'm hungry, and stop when I'm full–kinda like how God designed me in the first place! I try to move as much as I can, but not obsess about burning calories.
And get this: I have never felt better about myself, and it has nothing to do with my weight. Heck, I even went bathing suit shopping yesterday with acceptance in my heart and a smile of my face. Believe me, even at my smallest size that has never happened before!
I'm so thankful for the freedom I've found.
Helping Her Navigate the Struggle
My daughter is still a young girl on her own journey with so much ahead of her. As women, we know how brutal that road can be. What a delight to know, though, that as she grows God has molded her mother to fundamentally believe and live out a better way.
She will have a mom who understands the temptations and struggles, but can help her call out the lies. That when she has questions, I'll be able to answer them. NOT by pointing her in the direction some diet plan, or another superficial answer (thank goodness!), but to the Person who created her body with love, provides food for her benefit, and desires for her to live in freedom. The same One who has a divine purpose for her life. (And for her mother's life as well, for that matter!)
Thank you, Lord, for what You have done.
(Want to hear Kristen talk about this post in her own words? Check out the video below!)
You may also enjoy this podcast interview with Kristen on this topic:
---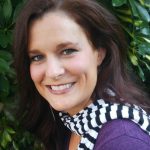 Kristen Maddux lives in St. Petersburg, FL and takes any chance she gets to go to Disney World. She loves creativity of all kinds, and words–whether that's diving into a good book, watching old movies, writing out her thoughts, being involved in theater (or just meeting up with friends and talking a lot!). Married to her college sweetheart, they have a nine-year old daughter and a goldendoodle puppy. She is loves decorating their home, and is passionate about becoming the kind of wife and mother who lives in balance with food and acceptance of her body. She hopes to encourage others on that journey as well.
[mc4wp_form id= "4141"]