Today Heather chats with Jennifer Strickland, a former model who's appeared in magazines you've probably read and shows you may have seen and worked for designers you've heard of. Jen had amazing success in the modeling world but her life was missing meaning and though she had learned how to use her body to fit an image, she had not yet learned how to use her voice. Jen shares her story of finding Christ while modeling and what her recovery from modeling (and the eating disorder that came with it) looked like. She also talks about how a mirror fast showed her what true beauty really looks like (and where it truly comes from!) Plus: Check out the BONUS content on Patreon from this episode!
Here are some other topics covered in this episode "The Model and the Mirror Fast":
Jennifer explains how the pressure of modeling is extreme because bodies change every day.
Jen talks about how she met Jesus through strangers on the street while she was modeling in Europe.
We talk about how deceiving image can be.
We discuss the lie of "I am what I see in the mirror."
We talk a bit about the behind the scenes yuck of the modeling industry and what it does to young girls.
Jen shares about her personal struggle with cystic acne and how a world-renowned dermatologist told her that her issues were so deep, they could only be treated by healing her heart and her mind.
Jen shares how God has freed her from the belief that she has to look and how she's learned to look radiant by looking on Him.
Go to Patreon for the BONUS content – 10 more minutes of my talk with Jen where she shares about how she's navigated beauty, social media, and related issues with her now college-age daughter.
Plus, Jen shares about how she did a 40 Day Mirror Fast and what it taught her.
Connect With Compared to Who:
Take the FREE 5-Day Email Challenge to Improve Your Body Image Here: 5-Day Email Challenge
Start reading the Burden of Better here: Burden of Better Book for Christian Women on Comparison
Join the Patreon Community here: www.patreon.com/comparedtowho
Find out more about Coaching here: Christian Group Body Image Coaching
Leave a review for the show! Find out more here: https://comparedtowho.me/podcast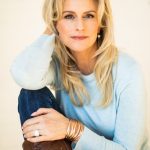 Jennifer Strickland is an author, TEDx speaker, former model, wife, mother of three, and the founder of U R More, a ministry that teaches people their worth in God's eyes.  Jen has written seven books and studies teaching women and girls their true worth, including Girl Perfect, More Beautiful Than You Know, Beautiful Lies, and 21 Myths (Even Good) Girls Believe About Sex. She holds a bachelor's in broadcast journalism and a master's in writing and literature.
For 15 years, Jen worked worldwide as a print, runway, and commercial model. She lived in several European countries and got an inside look at one of the most glamorized industries in the world. Today, Jen uses her experience as a model, knowledge of Scripture, and love for young women to expose the lies of the media and teach them to see themselves in the mirror of God.