I read her Facebook post and couldn't stop my lips from settling into a giant smile. It read:
When will I look older?
Ahhh . . . I remember feeling that way; visiting a college campus and hoping that people would think I looked eighteen instead of sixteen.
Now that I'm forty plus an undisclosed amount, I'm totally okay with being mistaken for a younger woman. Feel free to give me back those two or three or eight years I wished away during my teens and twenties. Round down if you want to. That's all fine. (I wrote more about how to handle aging here.)
I'm finished waiting to look grown up. But, much to my surprise, the necessity of waiting did not leave me as fast as my youthful complexion did. Turns out instant gratification was not the trademark of any of the decades following my nineteenth birthday.
Through my twenties I impatiently waited for everything life promised me. I wanted beauty, wealth to buy more things, and, above all else, I wanted God to give me a husband.
At thirty he did, but that still wasn't enough.
I waited for our marriage to be good. I waited for intimacy to be anything like what I expected it to be from my decades of romantic movie consumption. I waited for children. I waited for children to sleep through the night. I waited for children to be old enough to feed themselves. I waited for the baby weight to melt off. I waited for the day when I'd have more free time to help the baby weight melt off. I waited for my husband to finish seminary so we could have a "normal" life. I waited for our brand new church to grow out of our living room so we could have a "normal" church. I waited for more babies after miscarriage. Then, I waited for those more babies to sleep through the night when I remembered how much more I enjoyed babies who sleep long hours.
I've waited for news. I've waited for updates. I've waited for fevers to break and weird rashes to disappear without diagnosis. I've waited for pain to subside, suffering to cease, and life to be, well, better…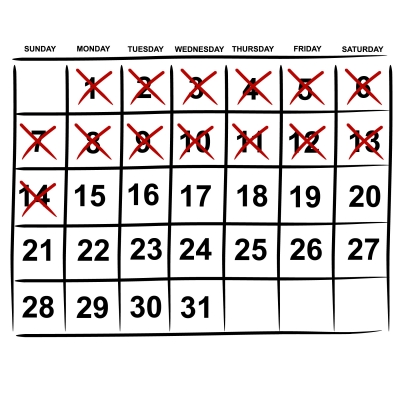 Yet, I'm still waiting.
My endless stream of "When will's" hasn't slowed down with age. Instead, my list grows daily.
When will my youngest be fully potty trained so I no longer have to wipe his bottom?
When will our church grow enough to have its own building?
When will my dream of having a book in my hands with my name on the spine come true? (This one came true here, but still waiting on the next!)
When will my children be able to actually help with the laundry and dishes?
When will we move to a place where my children can run more than ten steps before hitting the six foot fence?
When will I actually have the time to make those Whole 30 freeze-ahead meals for a month that will save me so much time, some other time, when I need more time?
It seems like the conditions for enjoying life–swimming in the deep–will never be perfect.
If you are waiting, wondering what God is doing in a time that feels like the desert, know you aren't alone. If you are growing weary in your waiting…know you aren't the only one.
I want to encourage you, dear friend, who wrestles impatience and wears the weight of all she hopes for on her shoulders. I want to remind you to see a future beyond even what your earthly dream come true would mean.
Keep a kingdom perspective, that someday good will triumph over evil and the unseen will be revealed.
I also want to remind you not to buy the lie. You know, the voice that whispers in your ear, "Things will be better once…" Unless you are finishing that sentence with "God has created a new heavens and earth" chances are, that thing you want, that status you desire, that piece of newness that you think will give your life the joy you need to just get up and smile every morning.  Know, it's probably not going to work out that way.
If we're stuck in a pattern of striving for more, there will always be another milestone telling us it will bring the life we desire.
The Gap Between More and Enough
I read this quote at Jimmie John's sandwich shop last week and thought it was amazing, "The gap between more and enough never closes." Jesus is the only place where we can find the abundance we desire from more.
Remember that the desert is where we learn to trust.
Jani Ortlund spoke to a group of Acts 29 pastor's wives at our annual retreat a few years ago on the topic of going through these dry and barren times. "Waiting is what faith does until God shows up," she said as she encouraged this group of women who are struggling through the rigors of church planting to lean on his fulness and trust his provision even when it's difficult to see a way out.
I'll never be finished waiting. Instead, I must adjust "what" I'm waiting for. I'm waiting for Jesus. I'm waiting for more of him and less of me and the day when I will remember, instinctively, that God is big enough to trust and loves me enough that I can rely on him to make a way for my good…but more so…for his glory.
Romans 8:18 For I consider that the sufferings of this present time are not worth comparing with the glory that is to be revealed to us.
(This post was updated from its original publication in 2014)
[mc4wp_form id="4141″]