Women are beasts at this comparison game. We can mentally assess our rank in a room full of women in seconds. And we do it reflexively. It takes mental effort to stop this destructive habit now that I see it for what it really is.
So, I'm not surprised at how hard body image is for young women, but what really shocked me is the new player in this comparison game.
Boys to Men isn't just an R&B group, they are the newest group falling victim to the lies about body image.
Men may still get away with aging more gracefully and the 'dad bod' is definitely more socially acceptable than a mom bod, but body image issues and struggles with comparison affect our young men as well.
I became aware of how much when my stepson didn't want to wear shorts in June in Texas!
It was literally 100 degrees outside, and he was red and sweaty. I went to grab his laundry, assuming he was out of seasonally appropriate garments. But, I found a drawer full of shorts.
Why aren't you wearing shorts?!?
After three rounds of "I just don't want to," he finally mumbled, "I have chicken legs."
I looked down at these perfect, little boy versions of my husband's legs in confusion. They were absolutely normal and proportionate  11 year-old legs! Yet, nothing I said could encourage him to change this flawed perception of himself.
At school, he'd been bullied and convinced that his God-given body didn't measure up to some standard of pre-teen prowess.
He wasn't even in middle school yet.
He didn't wear shorts for two summers unless we forced him. Despite our parental attempts to convince him that his body was totally normal, he only saw flaws when he looked in the mirror.
A few years later, many of his peers hit a growth spurt, while he did not. He still looked more child-like as the boys around him began to resemble men. Although his dad had also been a late bloomer, my stepson refused to be encouraged and was terribly down on himself for being too short.
For what? I asked.
And he had a list, a list of all the ways his body didn't measure up.
My answer was, "You're just the right height for you. God made you with a plan and purpose. No one else can be and do what you are intended for. Your body is just right for the job, life, and woman God has planned for you."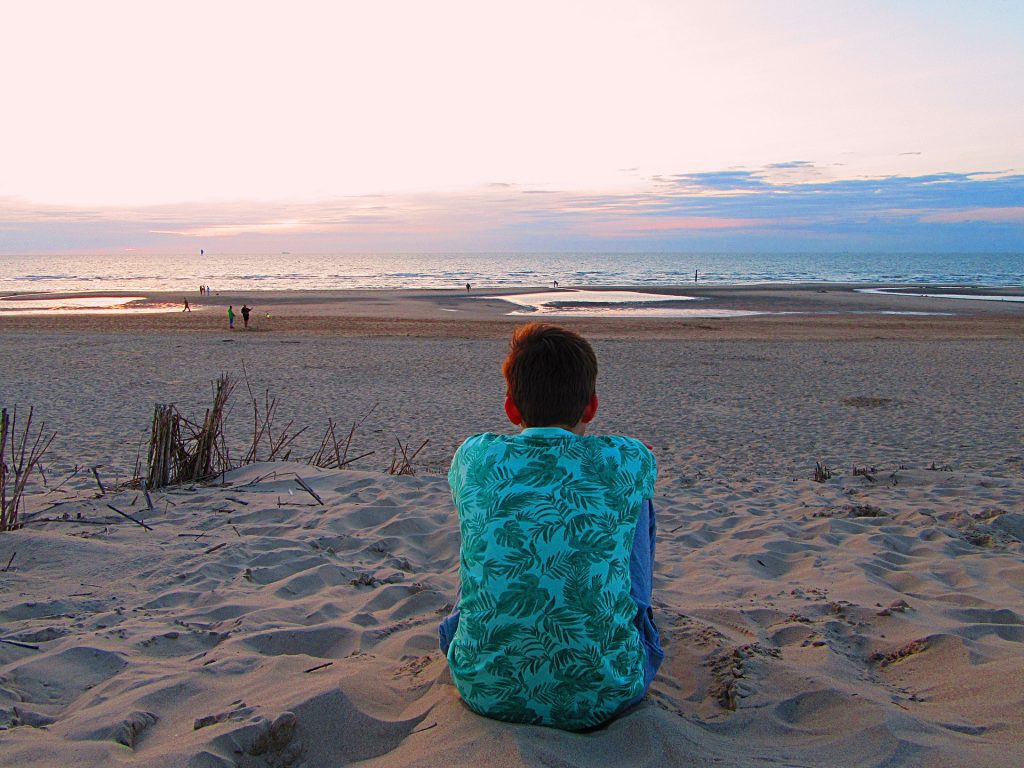 (Speaking that truth to him was a pretty powerful step in my own journey with body image.)
I hope he always holds that truth in his head when he faces insecurity, but it's so hard. Our human nature and pride knows others still judge based on the world's standards.
We must know the WAY, the TRUTH, and the LIFE to get past the struggle for real.
Last fall, we were discussing his recovery from a serious back surgery. He was really looking forward to getting back into the gym because he had lost inches off his biceps during his months in a back brace.
Seriously?!
Just be thankful you're healing!
This comparison game is so obviously flawed when the spaghetti ball of lies is coming from your child. What had seemed perfectly okay to do to myself was clearly garbage when a child I love was falling victim to the enemy's lies.
My husband has fallen victim to this himself. He went through a stage of extreme body building while deployed in Iraq. But I saw how he measured his worth and identity by the inches on his arms and the body fat percentage in the pinchers.
I finally threatened to force him to eat a biscuit if he didn't get a grip. Being healthy is awesome, but I don't love you any more because you look this way, and I won't love you any less if you quit body building.
He still struggles with his body image, calls himself fat. He has a 31 inch waist y'all (insert eye roll here), but has a very real sense that bodily perfection is not his.
Raising a daughter, I knew my body image issues would be something I could pass down or protect her from. However, I wasn't prepared for how modern culture and standards for sexiness have affected our boys.
Media messages are inundating these beautiful boys with body-building images of masculinity. They face a generation of women who base their ideas of handsome on "Magic Mike" and reject men by swiping left based on a photograph.
Wow, are they missing the real deal!
First, handsome is as handsome does. My husband gently washing my feet after my hip surgery made my heart beat faster than his biceps ever had.
Secondly, Jesus gave us a much better example of the beauty of a manhood, the perfect picture of a husband (from Ephesians), and the absolute truth of what it meant to lay down self.
Our boys' and men's hearts are silently suffering in this new territory. Men have always compared their worth in many ways, but our increasingly superficial culture pressures us to seek physical perfection with such intense focus that no one is immune.
Perfection is unattainable. The closer we get, the further away it seems.
What can we do?
For our husbands, don't engage with media that focuses on the physical perfection of the actors. I don't watch movies or television with nudity or sexual scenes. I made a verbal commitment to my husband that my eyes are focused on him alone because my heart is his alone.
Have clear boundaries with male relationships online and in person.  Being friendly with people who happen to be male isn't the same as being friends. My husband is my provider, protector, best friend. Other than God, I seek him first. He knows he has my heart and attention.
For our sons, love their dads well. My stepsons might not understand why I turn off movies or don't read romance novels, but they do understand that I love their father. They see me hold his hands and kiss his face.
Supervise their social media. Restricting them from social media as much as possible may not make you popular, but it can make a huge difference in their lives in many ways, including body image/comparison issues. A teen's newsfeed is full of suggestive pics from friends of both genders who don't know their true value. They equate attractiveness with being valued.
Give them experiences that build strength and real character. Find their strengths and interests and encourage them in those directions. We all feel better about ourselves when we are living in our purpose.
Lastly, encourage all the men in your life to seek God and Godly male relationships. Living in a community that values real masculinity in the service of God makes it easier to combat the world.
Today, my stepson is an adult.
But my fear is that he will take his insecurities into adulthood and to college with him. I can only pray that my words and God will grab hold of his heart, and he will know his true worth.
---
Jennifer DeFrates blogs at Heaven not Harvard (http://heavennotharvard.com) about the adventures of following Jesus and having a Kingdom mindset in all we do. After teaching public school, parenting and sending her husband to war, very little frightens her–except maybe the leftovers in the back of the fridge. She is an army wife, adoptive (& step) mom, homeschooler, recovering perfectionist, and passionate disciple of Christ who hopes her journey will encourage others in all walks of Christian womanhood.
[mc4wp_form id= "4141"]
Pin this to encourage a friend or remind yourself about this resource later!