"Stay calm. Just breathe. It's going to be okay." I repeated this to myself several times over on the way home. Truthfully, I was on the verge of tears. The source of my great upset was my new haircut.
As David greeted me, "Oh, you're hair looks so good!" The waterfall gushed out.
"I look like I'm 12! I don't look a thing like the sexy woman I wanted to!" What I wanted was a medium length bob, a la Heidi Klum. Alas, I ended up with a mid-neck blunt bob. I probably felt like a 12 year old because I was acting like one, crying and stomping around the house.
When I showed David the picture of what I wanted, he replied, "Whoa, you're hair looks nothing like that."
Ummm, DUH. Oh, husband. Insert, more tears.
I felt so stupid for being so devastated. It's just hair. For goodness sake, when I was 20, I shaved my head bald. But, it literally looked nothing like what I asked for. I wanted to feel like the best version of myself. Instead, I felt defeated, devalued, and just plain ugly.
The long and the short of it…
My hair was my identity during my teenage years. I dyed it every color of the rainbow and had every single length. Whatever color or cut I chose represented who I thought I should be. Just like with my weight, I thought, "If only I had this type of hair, I could be fixed to perfection! And only then will I be happy." Whenever I had any extra money, I would go to the salon for a makeover, thinking that if my outsides were fixed, I could be fixed my insides too. I could find love and love myself as well.
In my last post, I detailed the abuse, eating disorder, and battle with food I experienced growing up. I did not have a firm foundation of love beneath my feet. Truthfully, I didn't know who I was. Even without an identity, I straight up did not like who I thought I was. I desperately wanted to be somebody else. My hair allowed me to change who I was and how I was viewed. Knowing what I know now, I idolized my hair. I wanted it to save me and give me the perfect life. But hair can't do that and I was in a vicious trap.
In the thick of it…
The turn-around in my life came when I was 20 years old. I had had enough of the one-night stands, boyfriends, and bottles of dye. I was looking for unconditional love in all the wrong places and I was fed up. In one week alone, I dyed my hair 8 times. I decided enough was enough. I was finally desperate enough to pray about it.
"God, I am so sick of my life. I am sick of the way things are going. I want a fresh start. I want the life you want for me. I am going to start over and you are going to give me my husband. My hair has always been my identity but I can't do this anymore. I'm giving it up."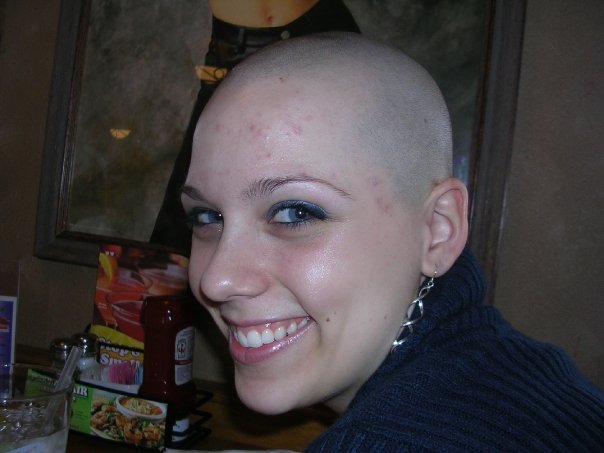 The funny thing is. . .I had believed my worth was found in my hair and so did others. People stopped talking to me and I lost friends. Gossip flew around work about how I was "crazy like Britney" (this was 2009). Others were concerned that I was ill.
In fact, no one could understand how I "got myself a boyfriend without hair." The then-boyfriend was David. No less than 3 weeks after shaving my head, God had answered my bold prayer.
Truthfully, in our society, it is acceptable for a woman to be without hair only when she is sick. If she freely chooses to go bare, then she must be having a mental breakdown.
However, I did get some fun responses from random women, telling me how much they admired me. How they had always wanted to shave their heads, but didn't have the guts. How they always threatened to their kids that Mom would shave her head if they didn't behave!
Hair today… Christ Always
The saying, "A woman's hair is her crowning glory", is based on 1 Corinthians 11:15. Compare this idea with a king's crown. The crown is not what makes him king; this is found in his lineage. The crown is the cherry on top and so it is with women's hair. Our worth and value is found in our lineage, through Christ. A bad hair day or cut does not have the power to diminish that. I am not any more or any less if something about me changes, despite what the world or myself might think. I love Heather's analogy of the mirror and tilting it up. Changing my focus will change my life in a radical way: what haircut can actually promise that?!
Back to my meltdown. . .When my face was dry and I could breathe again, David gave me some wise words. Once I stopped comparing my hair to the picture, the cut and color was actually very flattering. Some say, "Comparison is the thief of joy." Or, as we say here at the blog, "Compared to Who?"
---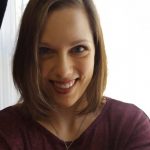 Kristin LeComte is a 28 year old woman who lives in Derry, New Hampshire, with her husband of six years, David. Learning is a passion of hers, one that sparked pursuing an intimate relationship with Jesus to become all she can in Him. She looks forward to graduating in 2018 with her Master of Education and becoming a high school English teacher who helps others develop a love of learning. In her free time, she loves reading, writing, baking, working out, and playing with makeup. Read Kristin's posts here.
[mc4wp_form id= "4141"]