Grapefruit, salmon burgers, and plain oatmeal; the exhaustive list of foods–aside from unbuttered vegetables–that were "legal" on my pre-wedding diet. In six short weeks, I'd be sitting in Hawaii eating room service with my new husband. I could endure this flavorless food plan with that goal in mind. Besides, this would be my last diet, ever. I was certain. Why? Because I thought, for sure, that no one had body image issues in marriage.
After a decade of weighing myself obsessively and impatiently waiting to meet Mr. Right, I would finally be married. Like the ring the Hobbits protected, that wedding ring would soon make my body image issues disappear without a trace. I could taste the coming freedom.
Ahhh. . . How relieved I would feel to no longer carry the pressure of keeping my body thin enough to find a guy to love me. 
So my (obviously naïve and uninformed) single person-self thought.
Instead, the craziest thing happened. I strolled down the aisle and said "I do" yet, instead of freedom, I tasted jealousy. I smelled more competition than ever before. And, I saw, through the lens of comparison, the world's abundance of beautiful women.
It was bizarre and unexpected. As a fiancée, I felt special. Loved. Chosen. Like my diamond solitaire proved that I was valuable to someone.
But then, overnight, I morphed from lovely engaged girl to wife. Just plain, old, wife.
Any novelty in the sound of that wore off in seat 28b during the five-hour return flight home from our honeymoon. Body image issues and marriage? Apparently more relevant than I thought.
When a wedding ring turned out to not be the answer to my body image problems, I got frustrated.
I wasn't supposed to have body image issues in marriage. 
I blamed my husband. The problem was obviously his. He needed to do a better job of affirming me around the clock, no matter what the circumstances. He should notice the little things and comment on them appropriately. "You are the most gorgeous woman to ever brush her teeth" for example. This would have been a solid start. I recommended it.
He just needed to amp up his game. Was that too much to ask?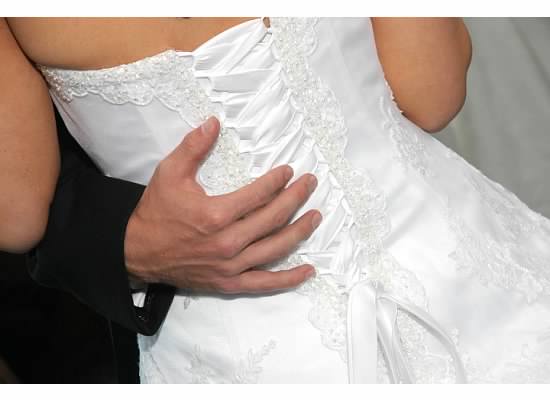 So, he tried. A bit. It didn't work as well as I had hoped.
In fact, instead of receiving his compliments and taking them to heart, I accused him of lying, yelled at him that he sounded so fake and got irrationally angry that he would even attempt to say such nice things without really meaning them.
"You are just saying that because I told you to say that."
He was trapped in a no-win situation.
To him, it was clear that my emptiness and insecurities were beyond his help. But I was disappointed and desperate. I had let my body image issues into our marriage. Prince Charming couldn't convince me that I was winning the beauty pageant of life. He tried to tell me that only God could help with this one. This made me even angrier.
Why wouldn't he take responsibility for this part of his role as my husband?
There was only one logical conclusion. I had obviously married the wrong man.
The right one would have fixed this for me. Just like in those nice Hallmark television movies, he'd melt away my body anxiety with his gentle words and outspoken desire for emotional connection.
The right one would be like Ryan Gosling saying, "Hey girl, there's no need for you to feel fat. . . ever." And, I'd believe him. When he wasn't encouraging me directly, he'd be talking about me and how beautiful I was. . . He'd have this completely suave-yet-intelligent, poetic sounding gush of nice words–like Matthew McConaughey talking about driving a Lincoln.
He'd be the peanut butter to my chocolate. We'd mesh so perfectly that he'd heal even my unspoken hurts. Then, I'd be fine.
Apparently, I needed to wake up.
And, I did. But, not quickly. It took years, and counseling, and pregnancies, and struggle for me to finally come to the point where I could admit that being married and having a husband – any husband – wouldn't fix my obsession with my weight and appearance. It also took days, months, and more years of the Holy Spirit showing me exactly where my brokenness rested and how He alone could heal it before I would have even considered letting my husband off the hook for fixing my body image issues.
Gradually I began to see, and then believe, that these were issues I needed to work on by myself. Apart from him.
Don't get me wrong, every time he confessed a struggle I wanted to pull out my oversized blaming finger, point it, and say, "See, you are doing this to me! It's your fault I worry so much about my body!"
But, I've learned to distinguish the truth–his struggles are his struggles and my struggles are mine–from the lie: he can fix me and I can fix him.
In a gentle way, God had to show me that there was only one man who could ever fix my body image struggles, and that man wasn't the one I married.
It was Jesus.