Have you made resolutions? Maybe you've started the year with a great resolve to "improve" this, that, or everything? That was me. For decades. Then God showed me that the self-improvement treadmill was taking me nowhere. And, that's why I wrote this book, The Burden of Better–a Christian book on comparison– and here are two reasons why you should make it the first book you read this year.
First: A Fresh Perspective Can Get you Unstuck
I had a sign on my desk that said, "Commit yourself to constant improvement" for decades. The beginning of every new year offered me a fresh start to "try again" the task of "bettering" my life. Only problem was, nothing ever changed. I'd try a new diet or a new exercise program, and be done with the plan by February 10th. I'd vow to myself that I'd keep this new rule or be "better" in this way…only to fail miserably weeks later. I couldn't make a resolution that was keepable. And, I felt like a failure. I was (obviously) too weak to get the job done. I felt shame. Guilt. Condemnation.
Try. Fail. Repeat. Try. Fail. Repeat.
That was my cycle.
But then I learned about grace. And God, gently, changed my perspective on "self betterment." He helped me change my perspective — he took me from the land of "it's not good enough" to a place of peace and rest.
Now, don't get me wrong. I do believe that God wants us to grow… he doesn't want us to stay stagnant, stuck, or be the same as we were last year. There are certainly ways we can improve that are holy! But, there are also ways in which we (subtly) chase better that lead us away from the path of growing to be more like Jesus.
We disguise them well.
We convince ourselves (sometimes with scripture's backing) that we need to "get healthier" or we need to "improve our home so we can be hospitable" . . . but, I tread lightly here, sometimes these goals begin to consume us and lead us away from the path God has for us. It's a delicate dance of course. Health is good. Home improvement can be fun! But when the pursuit of better becomes a distraction and robs us of our peace and rest… it's time to stop and remember what God really asks us of. (Hint: his purpose for us is much bigger than chasing a smaller size or an updated kitchen!).
The truth is: what you need most in 2021 is not a new body, a new home, or a new (and improved) marriage or family . . . What you really need is a new perspective.
What would it look like to live a life of gratitude? How would it feel to believe, at an internal level, that you truly are accepted and loved–just as you are–and that you can grow and change from a place where your identity is completely secure in Christ? In other words — you can make changes without "needing" to make changes in order to feel happier, more accepted, or more loved.
Wouldn't that be amazing?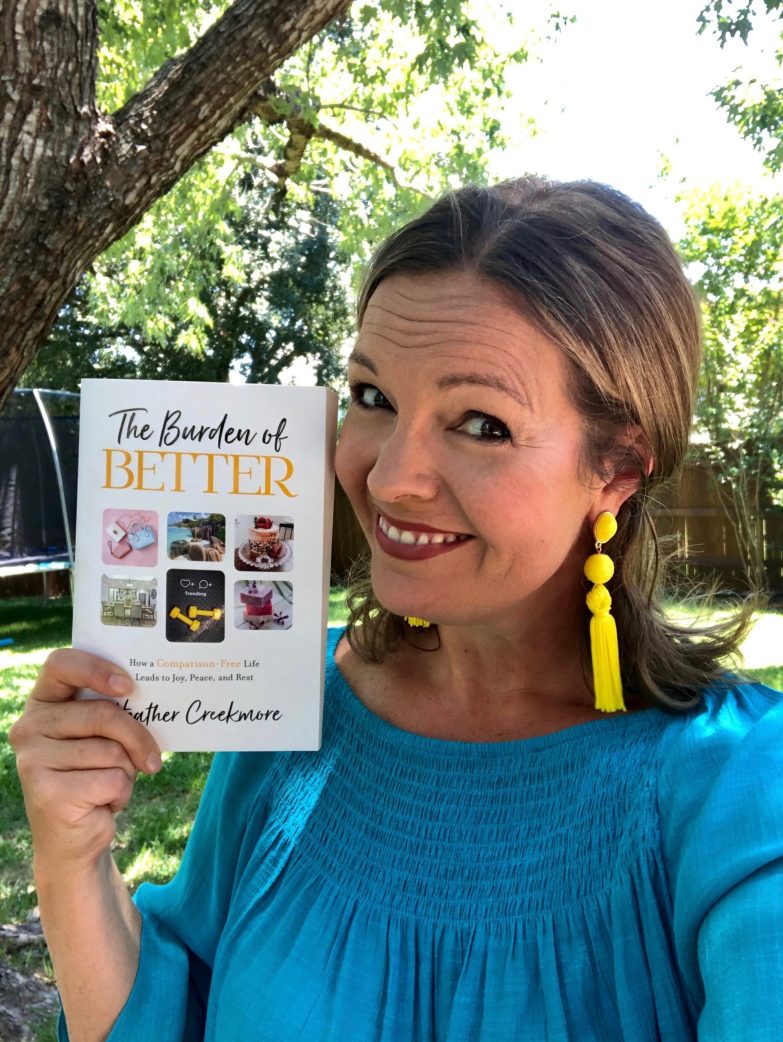 Second: Learning About God's Grace Can Carry You Through Any Season
Burden of Better is a Christian book about comparison and how to hop off the self-improvement treadmill. But, it's also a book about grace. Most of us who are caught up in trying to better ourselves and our lives struggle with the concept of grace. We're more comfortable "getting what we deserve" or "earning our rewards." To get something we haven't earned and don't deserve? That can feel uncomfortable.
But, God's grace is what can carry us through any and every season.
If our health goals fail because of a health crisis–God's grace is still there even when the scale's number isn't to our liking. If a lockdown keeps us from the gym (or leaving the house) — God's grace can sustain us in our waiting for restrictions to lift so we can resume normal activity. I'll be honest– I had no idea how many ways God's grace was operating in my life every day, every hour. But, in researching for this book, I learned just how much grace I was experiencing and how to start seeing it at work every minute.
If any of this resonates with you, can I invite you to start your year by reading Burden of Better?
If you get nothing out of it – let me know and I'll buy your copy from you. But if you've ever struggled for one minute with the constant pressure to improve… I think this book could change your 2021…and your life.
I hope you'll check it out today! You can start reading here if you want to know more.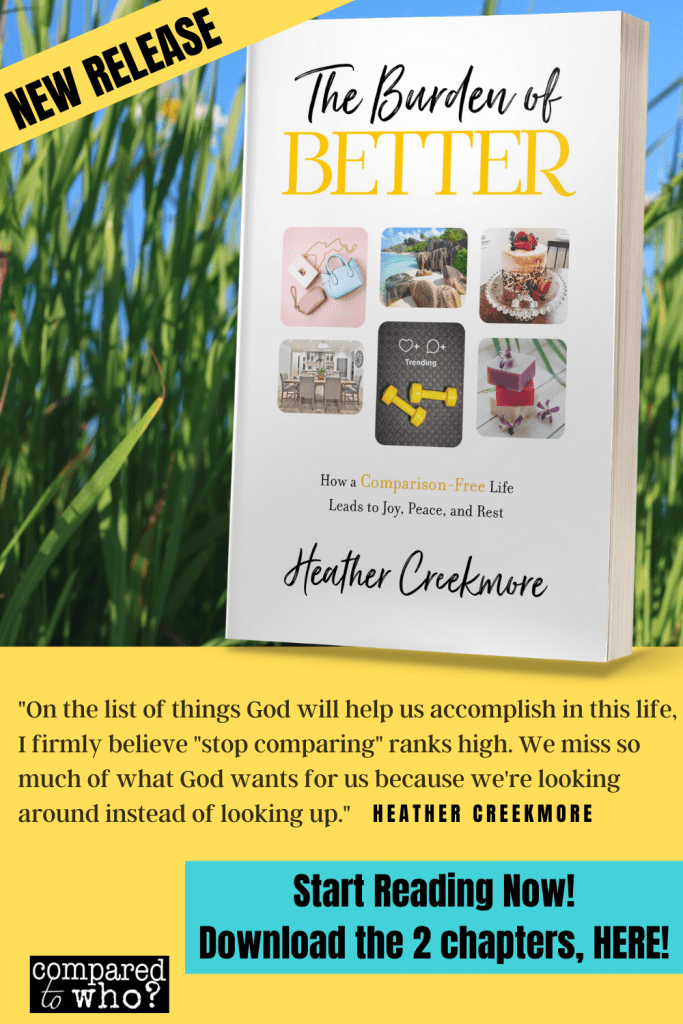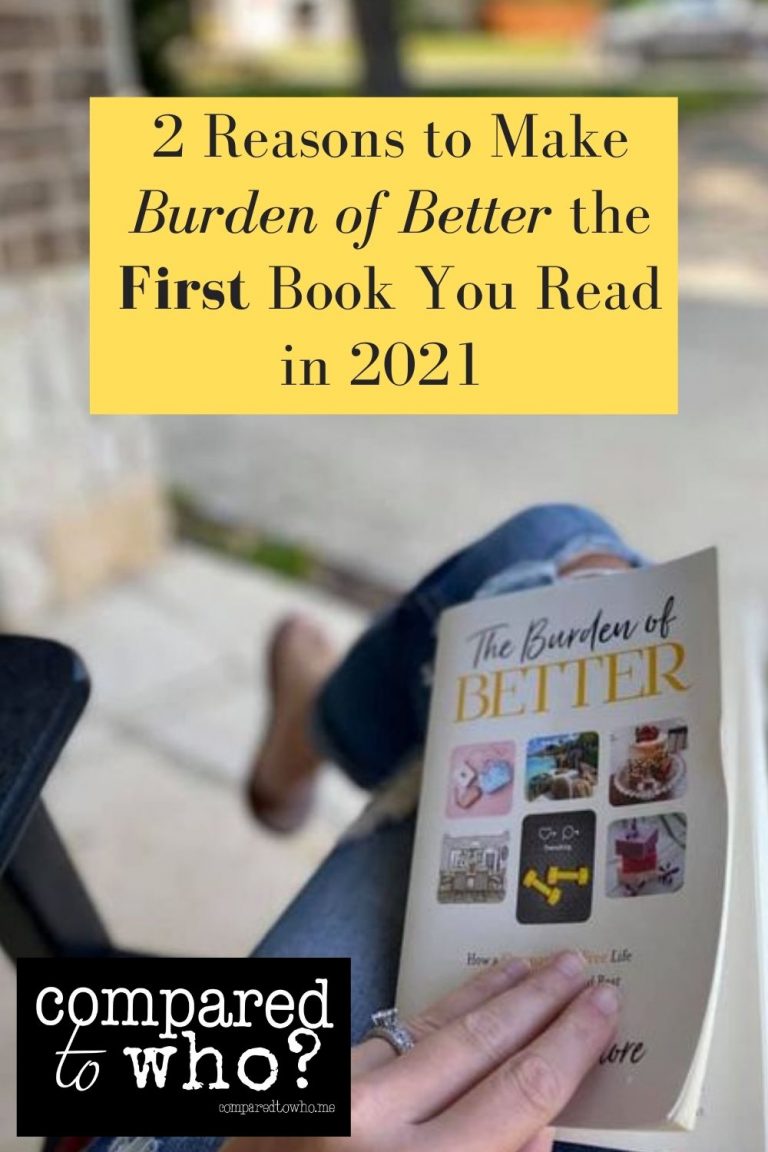 [mc4wp_form id= "4141"]