Nine years ago this morning all I could think about was giving the no-show limo driver a piece of my mind.
The day started early. I oozed with emotions of every kind. I hopped into my dear friend Heidi's sporty little car at 6am to drive to a hair and make-up appointment. As I started the engine, the song, "Going to the Chapel" blared through the stereo speakers. In the darkness I almost didn't see the note with my name on it resting on the steering wheel. It was a wedding morning message from my soon-to-be husband. Heidi deserves the "best maid of honor ever" award–as she had carefully planned this touching and thoughtful surprise.
Yes, it was my big day. Finally. At thirty-one years old, all I had ever wanted was for this day to come. I'd waited, what seemed like, forever. I would finally become a "Mrs." I would, at long last, be able to say I had a "husband." And, I would, finally, no longer be eligible to join church singles groups. Praise God. They were painful.
Relief. Joy. Elation. Excitement.
Yet somehow most of that happiness dissipated. Before 8am.
"How Dare You Mess Up My Wedding?"
7:45am. The limo driver was officially fifteen minutes late and time was wasting. We planned our wedding on a military base and I had to make it through the front gate security check before the guests and groom arrived. The historic church now served as a wedding mill. They gave us exactly one hour and a half to occupy the tiny sanctuary, decorate, perform a ceremony, shoot a few pictures, and clean out of there before the next couple repeated the process. But, not to worry. I had it under control. Everyone in the wedding party had a minute-by-minute schedule to follow. The details had been confirmed and reconfirmed. I had just spoken with the limo company last night.
Today was important and I had somewhere to be.
How dare the limo driver mess up my perfect plans!
So by 7:55 I stood on my front lawn in sweat pants and a t-shirt that said "I love Eric" with a done-up face and a tiara yelling into my cell phone, "Thanks for not picking me up…on my wedding day!"
If I hadn't already crossed the line into Bridezilla status, I did right there and then.
Without any other ride options, I crammed my wedding dress and my partially done-up self back into Heidi's Acura. With my head tilted to one side so my hair and tiny crown wouldn't get smashed into the low roof, I rode all the way to the church that morning with a mind swirling around other details. Would the timing work out right? Would the minister speak too long? Was the photographer at the right place? Would the limo drive show up for his other assignments that day? Was all of this really happening? To me? Today?
The big day was here, finally, and all I could think about was the details. I love details. All the details. They must be right.
Yes. I used to be a control freak.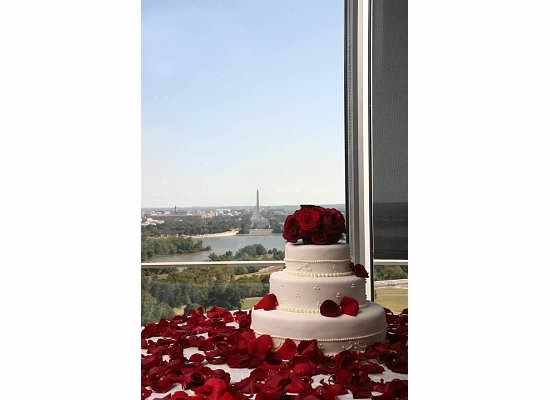 Oh I almost forgot to mention that I had the best wedding planner ever. My dear friend Elaine is, hands down, the most phenomenal event planner I have ever known. After five years of working with her–I knew she wouldn't let anything go "wrong." She wouldn't suddenly forget to check on the caterer. It wouldn't slip her mind that we were on a tight schedule to get through the ceremony. Elaine had the event under control. Totally and completely. The whole time. She had called the limo company one minute after their scheduled arrival time. She stood there on my front lawn figuring out alternative plans and worrying about my hair getting messed up.
Yet, I still felt like it was somehow irresponsible of me not to worry about the details…even though Elaine had it. Ultimately, it was my wedding. I needed to worry, right? No one could possibly care as much as I do about things going just right.
My need to be in control dampened the spirit of my wedding day.
And, it almost destroyed my marriage. . .
because it's hard for control freaks to stay married.
I desired to be lord of my own destiny. I had a line-by-line schedule not just for my wedding, but for my life. All I needed was everyone to cooperate and happiness awaited me. But, it didn't work out quite that nicely. Marriage was a lot harder than I expected it to be. This husband of mine, he wasn't perfect. He didn't always stick to the script.
So, when marriage started to hurt I handled it the only way I knew how: I took charge.
Perhaps if I was in charge, it wouldn't hurt so much. Maybe I could make sure it wouldn't hurt so much. I could control the variables that were causing me pain. (Or so I thought.)
Now don't get me wrong, it was never that blatant. I didn't make a proclamation that I was taking over. Never did I attempt an outright dethroning of my husband from his leadership role. It was much more subtle than that. I'd get mad if he didn't do what I wanted him to do. Or, I'd get quiet, yet visibly upset, if he said something I didn't like. If he acted in a way I didn't approve of, I'd be furious. I questioned his every move. And, if he made a mistake…well, I would make sure he knew just how horrible he was for not being perfect.
Wow, he lucked out marrying me, eh?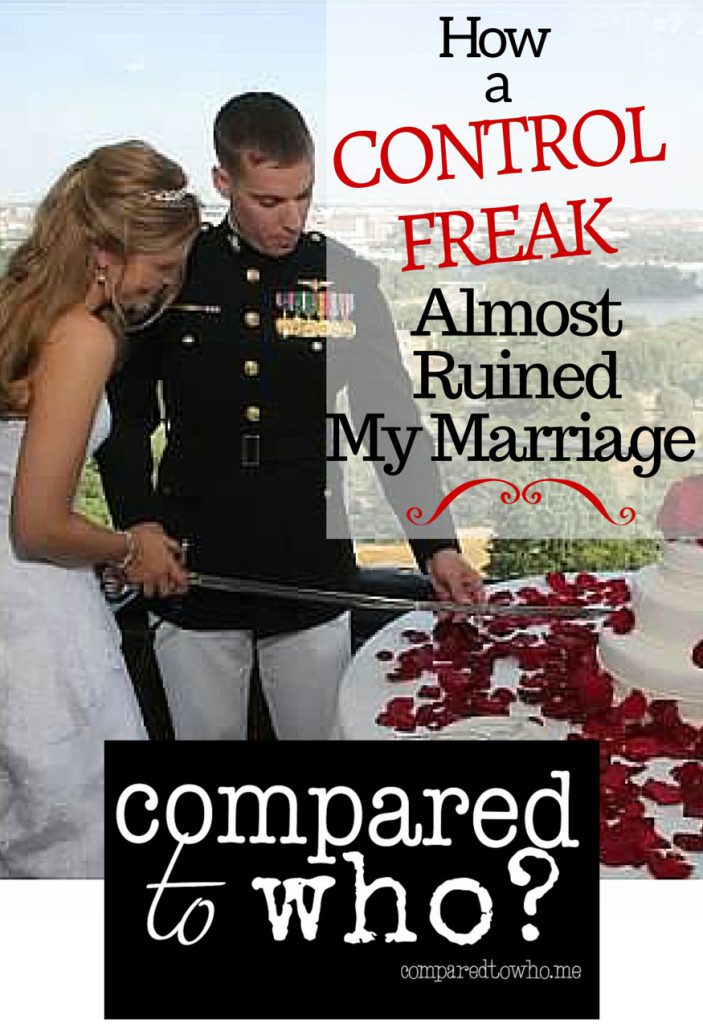 Trying to control our own lives is a pressure too much for any mere human to handle.
I mean, we try. But, if you watch it play out…often this need to control drives us to do irrational and masochistic activities–like becoming a dictator in our homes and taking over every responsibility in sight…
And, this is how we ruin our marriages.
It starts out with our hearts craving a hero. So, we get married. But, when the man we married lets us down –even in the smallest way (and often when we perceive that to be the same way our biological father let us down)– we decide we must take over… Our hero won't come through for us, so we'll have to pin on the cape and save the day for ourselves.
Then, we get even more ticked off. No woman wants to rescue herself. That's not even close to being romantic.
So, instead of digging deep into the reasons why we must control, we sit around wishin' and hopin' and prayin' that it would be different. We wish so badly that he'd get the memo and step it up. Yet, we don't want to let go of the reins. We have to drive because he doesn't go the right way or speed we prefer. Or how we have to work harder,to make more money because we have to provide for our family in case he doesn't make enough for us to live the lifestyle we know we deserve.
Oh, and it's so stressful how we have to take care of every little detail with the children because we can't trust him to make sure they brush their teeth regularly. Plus, on top of it all, we have to do all the housework because he doesn't use the right spray to clean the countertops. The list goes on, and on, and on.
Then our hero suddenly seems like a zero because what was intended to be an equal partnership is now a one-woman show.
When you can do it all alone there's not really a need for him anymore, is there?
These words aren't easy for me to type because I've thought them. The only difference between me and my friends who no longer celebrate anniversaries is the work that the Holy Spirit did to convict me of the pride and fear driving my control issues. He showed me the ways I was destroying my marriage.
You see, just like on my wedding day when my wedding planner, Elaine, had everything well orchestrated, I must remind myself that God does a whole lot better at running my life than I do.
When I get frustrated with my husband, I also need to remember that he's not Jesus. He's going to make mistakes. He's going to get it wrong some days. But, that doesn't have to cause me to panic because my trust rests not in my husband.
My trust must rest in my God.
And with a firm grasp of that concept I've been free for the last several years to let my husband lead. I don't need to take control because I know that God actually has it. My own conniving and manipulative tendencies don't help anything. Stressing out if he's not doing things the way I want, doesn't change anything either. I can just relax.
God's a much better event planner than I am.
(This post originally appeared on Compared to Who? in 2014)
Tired of trying to take control of your body image? Check out my book here. Beat your body image bully in a way you never thought possible.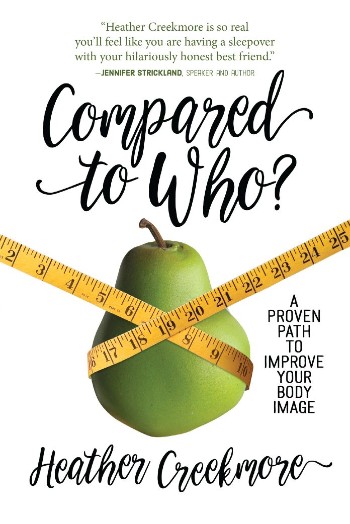 *Affiliate link.