As I sit here and stare at my computer screen, I find myself with the desire to meet you for coffee. Yes, you…for coffee…or tea…or whatever it is you enjoy. But, it's not really about the drinks. It's about the connection. In person. Face-to-face.
Isn't that the core of what we all want? To belong? To feel wanted? To fit in? To be a part of the group?
It isn't easy to feel connected when I'm on this side of the screen and you're on the other.
But that makes sense, doesn't it? You and I can't really meet for a fun afternoon of girl time where we can talk and laugh together? So, let's explore this connection thing with our female friends and family in mind. Just the other day, someone said to me, "How come they can afford a house like that, but we can't?" Sounds familiar, doesn't it? We're all guilty of doing at some point in time. Chances are we do it more than we even realize. Take a quick read of this list and mentally check off the ones you can relate to…
• I wish my husband would buy me gifts like that.
• How in the world can they afford a car that nice?
• I wish I had the time and money to spend that much time at the salon.
• Must be nice to afford to dress like that.
• I wonder how much that purse set her back.
• She's got it all together.
I wish I was more like her.
Do you see the pattern? The only thing that this way of thinking does is create havoc. It builds walls of separation. And separation doesn't lead to connection, which so many of us long for.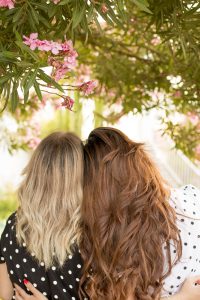 Envy Destroys Connection
Humor me for a second and turn in your Bible to Exodus 20:17. Here we find the law laid out plainly. It says, "Do not covet your neighbor's house. Do not covet your neighbor's wife, his male or female slave, his ox or donkey, or anything that belongs to your neighbor." First things first, I highly doubt any of us in 2016 have slaves or oxen or donkeys. Just sayin'. Now, let's define covet, since that's not a word commonly used today.
Covet is defined as to desire wrongfully, inordinately, or without due regard for the rights of others: to wish for, especially eagerly: to have an inordinate or wrongful desire. A synonym for covet is envy. We are not to envy our neighbor's house, spouse, or anything else! Man, I wish I knew why this was such a struggle for women today. (Myself included.) (Heather wrote about the struggle here, and Wendy wrote about it here . . .so I know it's something we all deal with!)
We've all been on the receiving end of envy, and I think we'll agree that it doesn't feel good.
Now let's jump to James 4:1-2 which says, "What is the source of wars and fights among you? Don't they come from the cravings that are at war within you? You desire and do not have. You murder and covet and cannot obtain. You fight and war. You do not have because you do not ask." We don't need to break down this verse, because it pretty much just calls us out. My sweet friends, we are at war with each other because we haven't stopped being envious of each other. We hold up our virtual yardsticks and measure ourselves up against everyone we come into contact with. We are comparing our marriages, our homes, our jobs, our children. No one wins, here, girls. We all end up losing. Sitting alone. Behind walls we built ourselves. Hungry for connection we can't seem to bear.
Isn't it time to break free?
---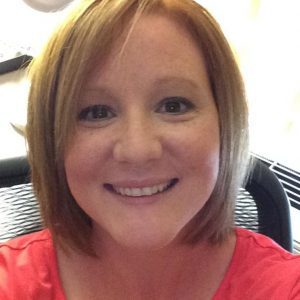 Sarah Yates lives in a suburb of St. Louis, Missouri with her husband and 3 teenage sons. She enjoys leading women's bible studies at her church, online shopping, and playing Bingo at bingo halls! She's a little bit quirky, a little bit sassy, and whole lot of serious about Jesus! Read Sarah's other posts here.