I'm a better mom than you.
Now that we've gotten that out of the way, allow me to explain. . .
I actually thought this for many years. (Embarrassed face here!) It wasn't a conscious thought and I definitely never said it out loud!
About fourteen years ago we began a journey that my husband and I both felt God had called us to–a vasectomy reversal and, hopefully, more children. It was a wonderful time in our lives and we really felt the Lord stretching both of us. We gave birth to our newest little arrow and life was sweet.
Then something happened. It wasn't overnight. It was gradual and sneaky. Fast forward several years later. I'm the lady that was quietly judging your store bought bread, your one child, and your Bermuda shorts.
You see, I was the lady with the 15 passenger van, wearing culottes and a head covering. My identity melted nicely into the mold of the stereotype. I spoke kindly and quietly to my husband and had extremely obedient children. I didn't need to buy bread. Mine was homemade.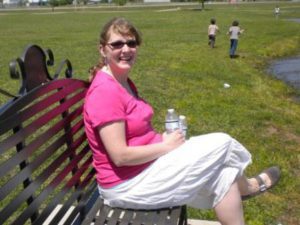 While I could blame my extreme views on the teaching I surrounded myself with, the uglier truth rested in my comparing heart. My issues ran much deeper than desiring to be the "perfect Christian." I thought there was some kind of reward for having it all together. My reward would come from those who doted on me about my large family or my impeccably behaved children.
And, if you were different than me? We simply could not be friends. During those years if you felt judged by me, you were probably right.   
Some of us struggle with comparing our looks to others. While this is something that I struggle with as well, my story is a little different. During this time in my life, I actually desired to look the part of the homely homeschool mom. I secretly wished to be Amish or Mennonite. To me, they had it all together. Perfect children and marriages, oh, and farms! They had farms! Surely if I could do all the things they did, I would have those things too. If I could change things on the outside, it would make me content and worthy. I was determined!
What people didn't see was my heart and inside my four walls. While there are some fond memories I have of those days, mostly I was the foolish woman tearing down her own home (Proverbs 14:1).
The outward appearance of our family was so important to me that I was critical of my husband and what I justified as his lack of leadership. I tore my children apart with my unending demands. I stressed over making every food from scratch and absolutely never wearing pants. My smiles were heavy and few. My laughs nearly non-existent. It was the darkest time of my life, yet I thought I was making so much progress.
Re-Defining Perfect
I found my value in my ability to look at others and judge all that they were doing "wrong." Oh thank Jesus that He is changing my wretched heart! I glorified myself all while hiding behind the veil of "perfect Christian." Essentially, I made myself my idol!
In the last four years I've sought the Lord diligently to pull the beauty from the ashes. About six months ago we moved from our "farm" because we needed to start over.
A few weeks ago, in the middle of selling it, our old house burned to the ground. What a picture it has been for me as I process it all.  This is the house where I was going to have it all – the cows, the perfect children, the perfect life. I've begged for Him to show me truth and help me to see that those years weren't an absolute waste. Praise God that by His grace, I now seek opportunities to love others. These days I prefer to hang out with people who are not just like me.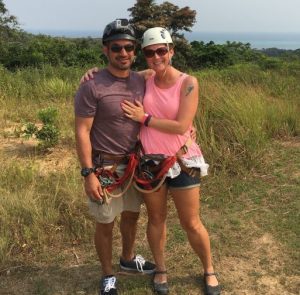 I relish in the fact that He has set me free and works through me. It was so daunting on my own. If you saw me today, you'd never believe that's who I once was. (You can read about my transformation here!) Through my crazy color combinations and tattoos, you'd just see a woman with a big crazy family who loves to laugh. You would see a woman who desires to delight in Jesus and who knows Jesus delights in her (and you!) (Zephaniah 3:17).
---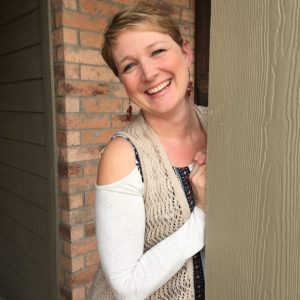 Christine Salinas is a lover of life, crazy pants, and big earrings. Jesus girl. Wife. Mom to 8. Homeschool mom. Public school mom. Barista. She has never met a stranger and loves to sing, dance, and ponder big things and future projects. Read Christine's posts here.