Today I'm taking a break from all things body image and exercise.  Inspired by thoughts I read from non-church going friends every October I'm asking: What does it mean to love my neighbor on October 31st. Here are my thoughts:
WWJD…What Would Jesus Do? If you were a teenager in the 90s I know you had the bracelet.  But, while youth groups were pumping a message of living as Jesus would live in this culture, the evangelical church began to amp up efforts to create its own counter-culture.
Enter the alternative Halloween celebration…
So WWJD? Would he go to first church of whatever's "Fall Festival" or would he stay close-to-home and be a part of the Halloween night activities of his village?
My opinion: I think Jesus would trick or treat. Okay, maybe he wouldn't actually dress up and go door to door asking for candy. But, I think his porch light would be on. I think he'd hand out the best candy he could buy. I think he'd cancel other activities to make sure he was home to participate.
Why? Because Jesus was love. He commands us to love our neighbors.  (It's not a suggestion, it's a command). He cared about people. He showed us by example that to love others means to engage them. He went to sinners' parties. He touched the unclean. He associated with those that the religious of the day wouldn't get near. He didn't cloister himself in the temple. In fact, the people he most often ran from or reprimanded were the religious.  His message of love, grace, and hope was for everyone.  And, to reach them with his message he had to get close to them.
Sadly though, in neighborhoods across the country it's the Christians that ruin trick-or-treating for their neighbors. It's the Christians that hide in the dark or rush to their church so they can have a legitimate "God-approved" reason for not spending the money on candy (for people they don't know).
On the one day of the year when people are actually outside, knocking on neighbors doors and interacting with others around them, the Christians leave. We make it harder for our communities to enjoy trick-or-treat night because we're not home. We "show them" how much "more spiritual" we are because we do all of our ritualistic candy handing-out in the comfort of our church multi-purpose rooms and parking lots.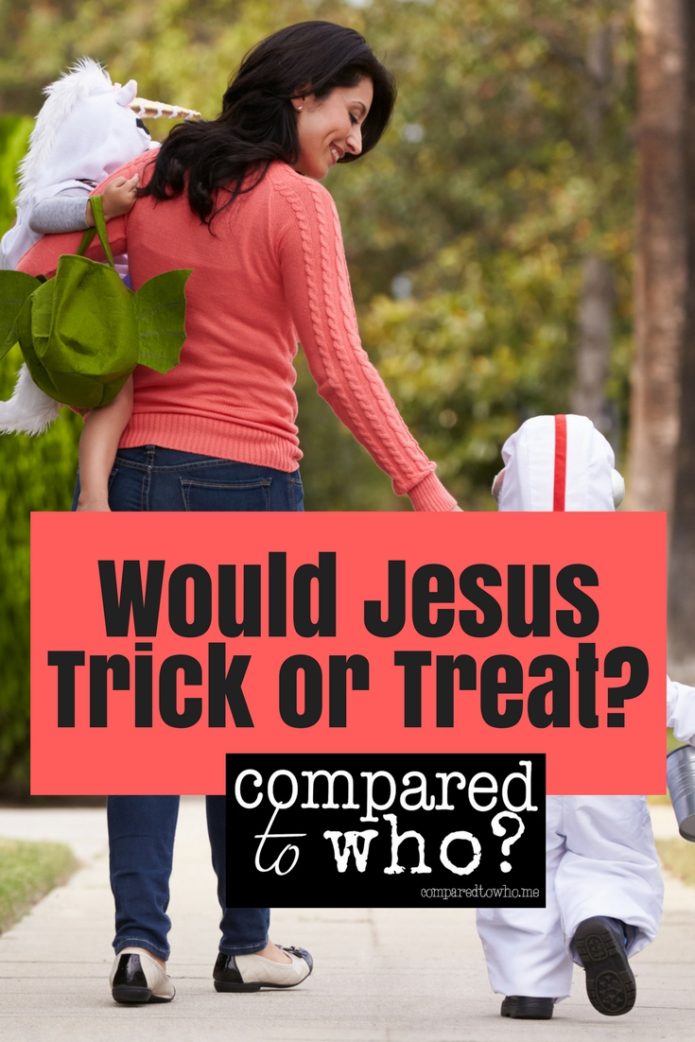 We don't let our lights shine…in fact, we make sure our (porch) lights are off.
And, what do we communicate in that? Tell me…is it love? I don't think so.
Sure, I understand that there is a "community outreach" aspect to some of the Fall Festivals out there. I'm certainly not against that. But, why hold them on Halloween? Why expect those who don't believe to come to you? Why not be a part and go to them?  And, are we really giving people a taste of Jesus when we have our anti-Halloween events?  Why do we think that anyone who doesn't believe in Jesus would be drawn to a God who (apparently) is against kids dressing up like their favorite characters and exchanging candy?
I've heard all of the "it's safer" rhetorical justifications, too. But, if this is where you hang your hat, do some fact-checking.  A kid hasn't been actually poisoned by candy from a stranger in 30 years.  There were a few reported cases where razor blades or pins were put into candy to scare children, but frankly the numbers on this are pretty low too– like 80 total cases over the last 60 years.  By and large, trick-or-treating isn't dangerous if parents are involved and alert.  And even so, why not be the one house in your neighborhood that other parents feel confident going to?
I know this may sound edgy to some of you who may have been raised and indoctrinated in certain ways.  You may still even be battling confusion as to whether or not participation in Halloween is engaging in some sort of devil worship. I'm not an expert — so if you are looking for more evidence —I found this article to have some really good perspective on Halloween's history and how we, as Christians can redeem the holiday.
Bottom line: Jesus called me to love my neighbor. He wants me to be a beacon of light to those who live around me. He wants my reputation in my community to be that of one who cares, one who loves, and one who can offer hope because I know in whom my hope rests. Sure, it's going to take more than giving out a few hundred Snickers bars to actually communicate all that, but it's an easy way to start getting to know those whom I'm commanded to love.
What do you think?
**Update please read before you comment! I am in shock at the number of people who visited this post during each Fall. Before the debate continues, I want clarify that this piece is likely true only for the cultural context in which I live –which is Dallas, Texas. I appreciate all the comments I have received from people in places other than the Bible Belt where Halloween is a completely different type of "celebration" that Christians of all kinds should obviously not take part in.
[nc4wp_form id= "4141"]