What have you heard about Yoga? Some say it's just good exercise…Others say it's not so good for the Christian to do. My friend Jenny has a great perspective on this topic. Check out what she has to say on Yoga and God's View of the Body in today's post!
---
In pursuit of body security on the outside, have you ever participated in forms of fitness that ask you to ignore what your body and mind are telling you on the inside? I know that I have. It's true that we have to push past a certain amount of inertia to get our blood pumping and to stimulate our muscles enough to spur growth and ongoing development. As a fitness instructor, I definitely encourage my clients to keep on going right up to their edge. But equally important to physical, mental, and even SPIRITUAL fitness is the kind of physical and mental work that urges us to stop, surrender, and listen.
This is what I love about yoga and God's view of the body that we encounter through this practice. I have been practicing yoga for about 12 years. Last fall I discovered Holy Yoga, which is 100% yoga and 100% Jesus (read more about holy yoga). It was then that I realized that I had been worshipping God on my mat the entire time. There is nowhere in life that God is not present in the life of one of His children — the issue is whether we have our hearts and minds tuned to His presence and open to see and hear His voice.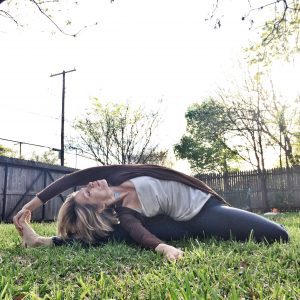 We've said it many times — life is busy, life is loud. So many things compete for our attention. Even during the "me time" we might dedicate to fitness, we often stuff our ears with music, shift our focus to a TV show at the gym, or fill the silence in conversation with a running buddy. Yoga asks us to be still on our mats. Each pose is a stillness in itself. There are 99 foundational poses in yoga (depending on who you ask). We do them over and over. The only thing that changes from day to day is ourselves. Our mental frame of mind, our inner voices, and our physical bodies' reflections of what we have endured since the last time we were on our mat.
In Holy Yoga, we start our time on the mat with scripture and a prayer. We return to the scripture halfway through the session. We end with the same scripture and another prayer. Each time we return to that scripture, it sinks a little deeper. Why? Because within the movement of each pose, we pause a little. Throughout the entire session, our breath is present. The Bible uses the word "ruach" in Hebrew for the Holy Spirit. Holy Ruach. Ruach is also the Hebrew word for breath. In holy yoga we are integrating the Holy Spirit into every movement as we breathe. In fact, the definition of yoga is "to yoke" — to yoke movement with breath It is, as everything in the practice, a metaphor. We are also on a spiritual journey to learn to integrate the Holy Spirit into our every movement in life.
How can we do this when there is so much competition for our attention? On the mat, we find that when our mind is focused fully on each individual movement, combined with breath, eventually there is no room for anything else. The Lord has given us a beautiful gift of such minute control over our bodies, using only our brain's signals. The discipline of focusing on the nuance of every pose serves to wash our minds free of distraction for the moment. For a believer, this is where the Holy Spirit enters in to present us with the words of God. On some days, He will show us ways in which we need to surrender (backbends, hip openers). On some days, He will remind us of His forgiveness when we aren't able to forgive ourselves or others (heart openers, or any pose that we find we can't do the way we "want to"). Humility, of course, is one that comes back over and over. Humility over what He has given and what He has done when we fall short (pretty much any pose in which I end up falling over! Warrior 3, anyone?).
In the end, we are flat on our mat in shivasana. At the feet of the Lord, we listen to what He has for us. He has used the tool of our body to quiet the mind and to speak into our lives. Is holy yoga a workout? Yes, but it is more than that. It is a tool for God to use our bodies to bring us closer to Him.
---
Jenny Bradford is a wife to Christian, a mom to a 4 and 5 year old. She blogs at Living Consciously — a blog which includes being conscious of the impact we have on our earth by green living, as well as being consciously considerate of the body's natural health and wellness capabilities through fitness, nutrition, and a low-toxin lifestyle. She is also a contributor to Dallas Moms Blog (where she met Heather!), and has been a Lagree fitness instructor since 2012. She will complete her 225 hour Holy Yoga instructor training in July of 2015 and is prayerfully waiting to hear from the Lord on the next steps. You also can find her on Instagram doing yoga challenges and sharing thoughts.