A few years ago, back in 2014, I began an "official" journey with One Little Word. While I had adopted "words" in previous years, I wasn't consistent and they were mostly abandoned. After prayer and study, I chose the word "focus" and signed up a for a class to help me completely embrace my word. To center my word in scripture I chose a key verse to remind me that my word was much bigger than me. I also made this graphic to inspire me.
Commit your work to the Lord, and your plans will be established. – Proverbs 16:3
What happened that year transformed me. I took my focus off of me and, instead, focused on the Lord's plans for me. Throughout this journey there were several things I confirmed and learned about myself.
General focus was not my problem; however, focusing on what God would like me to focus on was an entirely different matter. I changed my college major and found something I am truly passionate about— productivity and performance improvement. (More on how this has helped me with body image issues coming in a later post!)
Committing my works to the Lord meant

I had to take the time to stop and pray and look to the Lord for direction.

 This was a hard habit to establish and one I continue to refine. (I commit daily to only comparing myself to Him and He has shown me that my weight is not about an image, but rather about my health. The struggle is still real, but I now have tools that enable me to win the daily battle.)
Finally, 2014 was the year that taught me to retrain my focus from the negative to the positive.
It was this last area that gave me the greatest breakthrough when it came to body image.
While there are many who struggle with comparing themselves to other women, this is not the area I typically struggle. Instead, I struggle with comparing my current self to my former selves. The self of five years ago, the self of my early 20s, and if I am being truly honest, the self-voted "least likely to ever gain weight" in high school.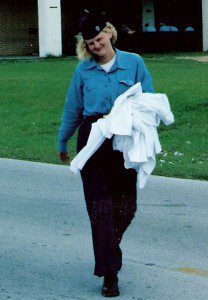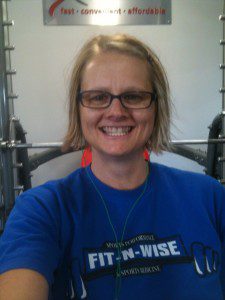 Along my journey of One Little Word the Lord showed me a new way. A way that keeps me focused on truth— His truths. Admittedly, the area of body image took me the longest, and is still a work in progress. After all, I was comparing myself only to myself so I knew it was something that was attainable.
The more my focus became Christ-centered, the more I realized that my comparisons had nothing to do with anything other than vanity. That's right, I wanted to look hot. Hot for my husband, hot for myself, and I wanted other's to see my body as something with which they could strive.
What?!?
I didn't even realize that was my desire until I stripped away all of the excuses and cried to God,
Search me, Oh God, and know my heart! Try me and know my thoughts! And see if there be any grievous way in me, and lead me in the way everlasting! Psalm 139:23-24 (ESV)
And did He ever.
There I was thinking I didn't have a body image issue because I wasn't looking at magazines in the checkout lines with envy.
Silly me…
Sad me…
Then Christ happened. Not that he wasn't there all along, after all, I am a believer saved by grace, through faith. The difference was, I had invited Him to be an active participant in this area of my life.
He was there to lead me in the way everlasting. I didn't realize the journey would be so long when it came to body image. There are times when it seems never ending. But somewhere along the way the focus turned from the length of the journey to the joy of the journey.
What was His desire for me? Did He care about my health? Yes! Did he care that I returned to a former glory? No, because that took the glory away from that which was most important, Him. How was it that I had forgotten that along the way? Was the solution to my body image issues finding the perfect diet? Not likely, while a healthy diet is certainly needed to restore my health, it wasn't the primary concern.
The much deeper concern, the one that took me the longest to even realize, was that any comparison I was making was to anything (and everything) but Christ.
That One Little Word, focus, has become so interwoven into the fabric of my life that now if I hear myself or even feel myself begin any comparisons or negativity I can just say "focus" and it reminds me that God has a plan for my life and comparisons and negativity isn't it.
I know we all use different tools to fight the enemy and keep our focus on Christ. For me, I have found these One Little Words that draw be back to scripture and Him.
What about you? What do you use?
---
Brandi Webster from Texas married over 20 years with four children whom she has homeschooled since 2000. She's a Jesus girl who is addicted to all things coffee, books and hot Texas summers. She's passionate about productivity, organization, and performance improvement and is constantly looking for ways to improve her own productivity. Her goal is to inspire others to consider their own effectiveness and to try to find new avenues to improvement. Follow her at BrandiWebster.com