Here's what people are saying about Heather Creekmore…
I was at the MOPS meeting when you came and spoke. The issue of body image as been, literally, a debilitating disease for me for as long as I can remember. I've taken anxiety medications, gone to Christian therapy… Nothing even took the edge off. The words you spoke did! I keep the prayer card in my bible so I remember to keep God the focus. The struggle is real, but the hope is real also! 
— Whitney
Thank you for sharing your story and wisdom with Messiah College students. Your presentation was engaging, challenging, and humorous in just the right balance to connect well with college students. Many students have said how powerful the presentation was, and we would love to have you back to our campus!
—Ellie Addelman, MS, Counselor/Professor, Messiah College
Heather connected to the audience and made us feel like we were having a conversation with a friend. She has a wonderful way of relating to people and inspiring change through her own stories and struggles. Heather is an excellent speaker, motivator, and communicator. 
— Brandi
"We gave our (100+) MOPs moms a survey after your talk. I wanted to tell you you with 5 being the highest, you got all 5's and two 4's! That is awesome feedback! A few of the wonderful comments included: 'This is just what I needed to hear today!', 'This was such an important message. Thank you!', 'Heather was engaging and funny and gave wonderful tips.' Heather, your talk resonated with a lot of women so thank you!"
–Lindsay, MOPs coordinator in Dallas, TX
"Heather's focus was on God, rather than a new trend or self-help idea. This was very encouraging."
— Jen
You were our best speaker of the whole MOPs year. Thank you for coming to speak to our group! 
–Esther
"We are constantly told to quit worrying; it's what is inside that counts; to eat better; to exercise more; or quit comparing. Heather's honesty is incredibly encouraging. She gives truth and hope in the form of godly wisdom. Your women will be impacted."
 –Laurel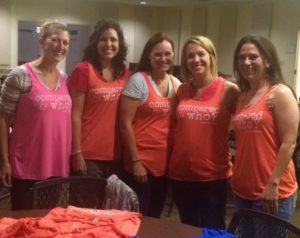 "A struggle with body image seems to be an untold story in so many women's daily narratives. Heather desires to bring these stories out of darkness and into the light of Christ and His glory. In doing so, she reminds us of our daily need to reform our understanding of who we are as men and women created in God's image."
 — Candis
I was touched by Heather's vulnerability. It's a good reminder that we just never know what another is thinking unless they let us in.  
— Lauren
Thanks again for sharing your incredible journey and wisdom with our MOPS group this morning. You were very real and entertaining all at the same time! Our group had a great conversation about our body image after we went into our discussion groups too! Thank you for that!
–Jackie, MOPS coordinator
Want to book Heather for your MOPs group, retreat, or women's ministry event?